Exclusive Bats
Regular price
Sale price
$300.00
Unit price
per
Sale
Sold out
Share
Endorsed by the Competitive Edge Team and specifically, Tyler Ervine, Logan Rogers and Cody Roton. The 2-piece Suncoast RUCKUS MAX 12 slowpitch softball bat is for advanced hitters that consistently drive the ball and who want a ½ ounce more mass at the end of the bat.
Product Features: 
12″ Barrel Length
2 1/4″ Barrel Diameter
Endloaded Swing Weighting
Endorsed by the Competitive Edge Team and specifically, Tyler Ervine, Logan Rogers and Cody Roton
Approved for USSSA, NSA, and ISA play.
This second-generation RUCKUS, two-piece high-end bat features Suncoast's MAX Technologies.
Suncoast's proprietary STICK & SPIN Barrel Coating Technology to maximize the flight and distance characteristics of the softball.
Suncoast's industry-first, MAX SPEED HANDLE TECHNOLOGY – which maximizes your bat speed while still maintaining excellent bat control to the player.
Suncoast's proprietary Opti-Dura Performance Aerospace-Grade Composite Materials in the launch section for ultimate performance and a great feel during ball-bat contact.
Opti-Dura Composite Handle Design is engineered to control vibration and maximize your handle stiffness for longer hits.
The patented Hi-Energy Polymeric Link System securely connects the hyper-stiff handle to the high-performance barrel and acts like a blocking mechanism by cutting off vibration to your hands on off-center hits.
Equipped with the Suncoast foam-backed tackified bat grip providing the ultimate in comfort and control
Marked with Rotation Numbers on the barrel to aid in the rotation of the bat from hit to hit in order to lengthen the life expectancy of the Ruckus Max.
Approved for play in USSSA, NSA, and ISA Sanctioned Leagues and Tournaments.
One-Year Manufacturer Warranty
View full details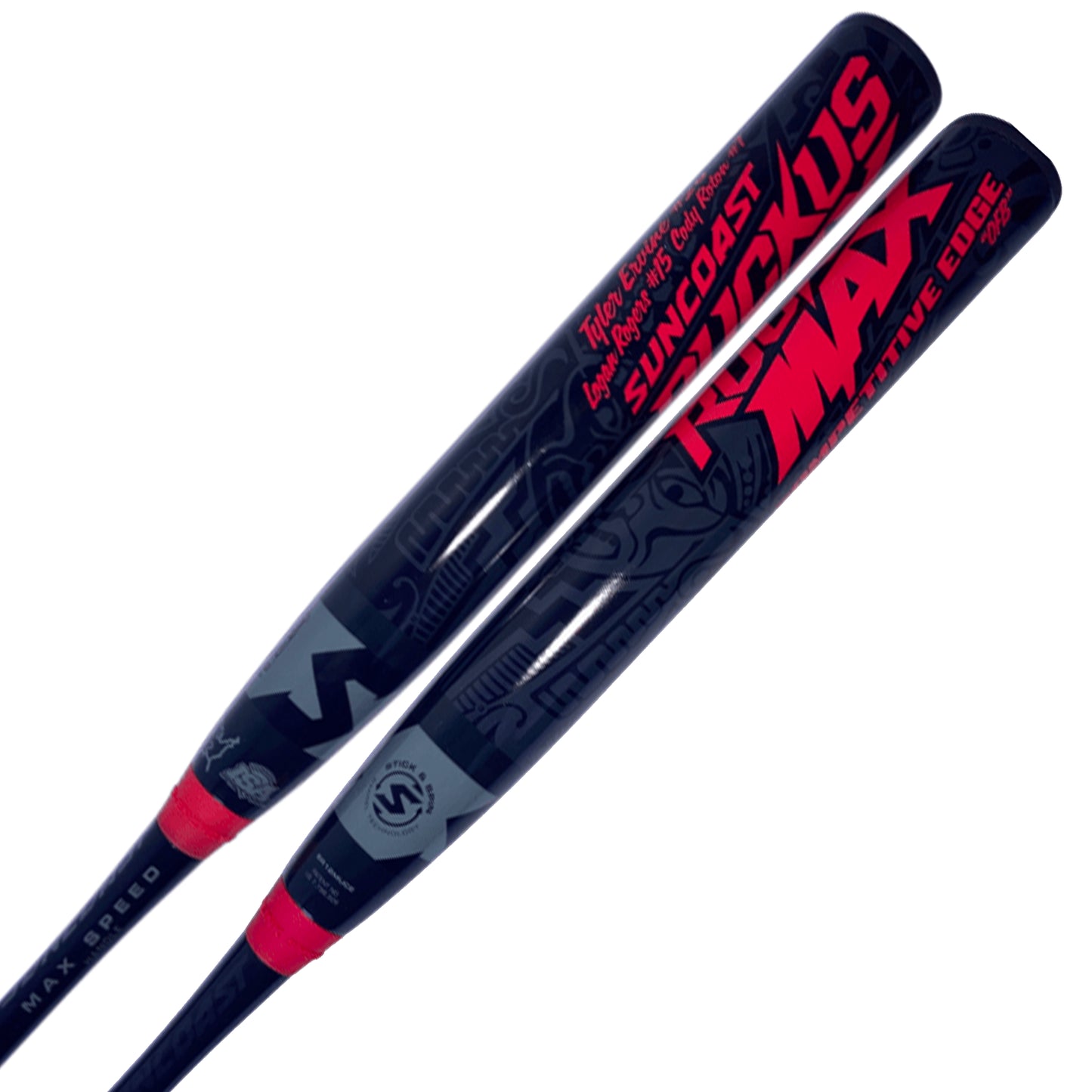 Here at ExclusiveBats we use motorized bat rollers to ensure that your bat is consistently spinning as we progressively apply pressure to the bat, that will guarantee your bat does not get any flat spots that you normally get when you use manual rollers. Here at ExclusiveBats we DO NOT believe in heat rolling composite bats as they are Fiber Reinforced Plastics and we all know whathappens to plastic in heat. Heat rolling aluminum & composite bats is SCAM also known as upselling.