Exclusive Bats
Regular price
$250.00 USD
Regular price
Sale price
$250.00 USD
Unit price
per
Sale
Sold out
Share
Mikens latest C-4 Proprietary Carbon Fiber maximizes the angle layup in the design process for unmatched performance and consistency. Developed and produced in the United States by Mikens World Class Engineers. The new E-Flex 360 Barrel is designed with Miken's new Exclusive C-4 Carbon Fiber allowing for maximum flex, performance, and durability around the entire barrel.  The new F4P improves the handle to barrel energy transfer to maximize performance and barrel flex.  
The new 2021 Miken Freak Primo USSSA Slowpitch Softball Bat is approved for the new USSSA 240 Compression Standards.  The Freak Primo offers a 14 inch barrel, .5 oz endload, 2 1/4" Barrel, and new USSSA Stamp.

Product Features: 
14 inch Barrel Diameter 
Maxload (.5 oz) Endload Swing Weighting

Color Scheme: Red / Black
2 1/4 inch Barrel Diameter 
F4P Handle Technology 
C-4 Proprietary Carbon Fiber 
A1 Knob
E Flex 360 
Two-Piece, Composite Softball Bat

Full Twelve (12) Month Manufacturer's Warranty

Approved for Play in USSSA, NSA, and ISA Sanctioned Leagues and Tournaments.

Manufactured With Pride In The USA
Please make sure to keep the Barcode attached to the barrel and your authorized receipt received around the bat from us for your warranty! 
Approved for new 240 USSSA NTS Standards
View full details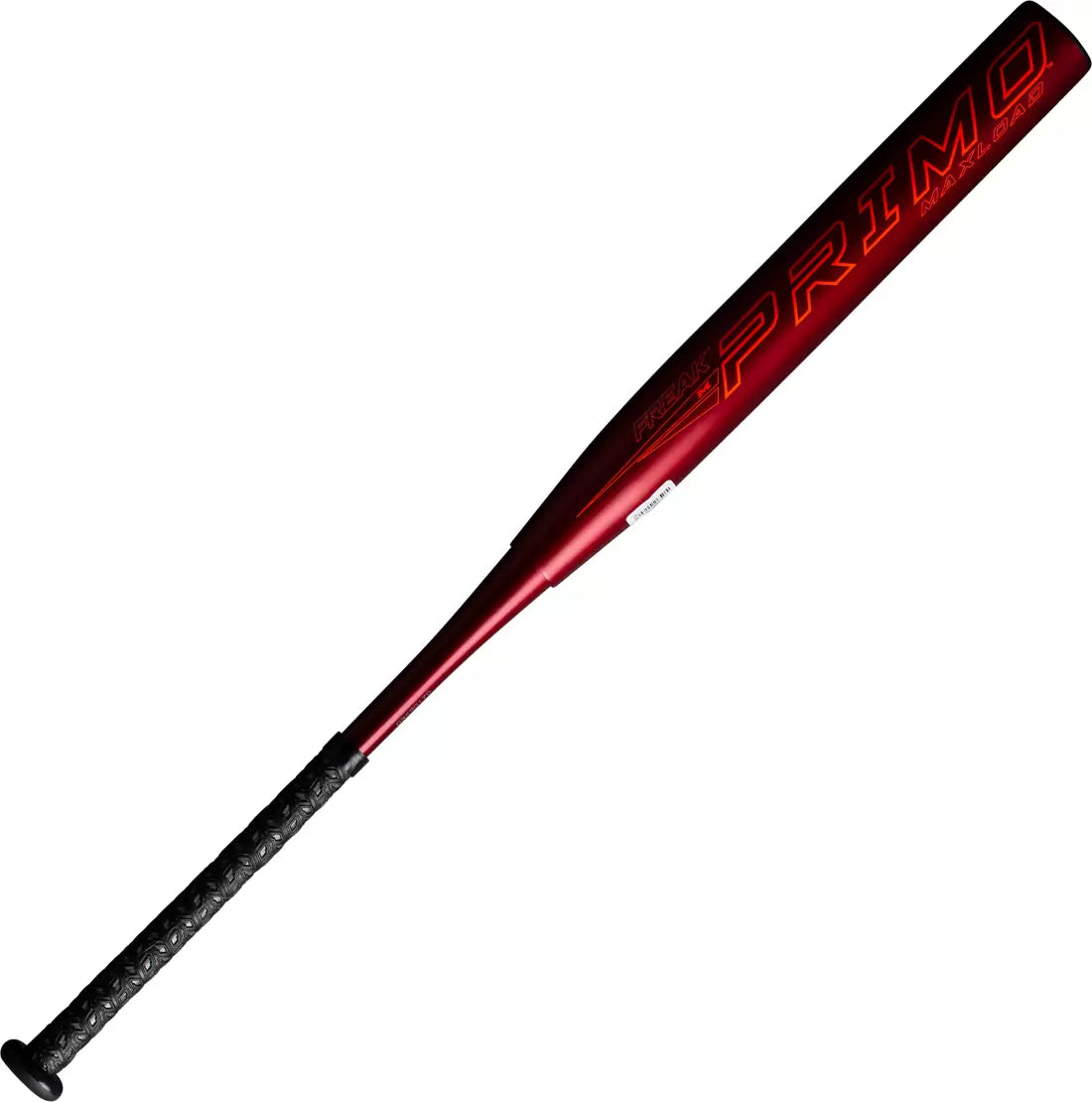 Here at ExclusiveBats we use motorized bat rollers to ensure that your bat is consistently spinning as we progressively apply pressure to the bat, that will guarantee your bat does not get any flat spots that you normally get when you use manual rollers. Here at ExclusiveBats we DO NOT believe in heat rolling composite bats as they are Fiber Reinforced Plastics and we all know whathappens to plastic in heat. Heat rolling aluminum & composite bats is SCAM also known as upselling.