Exclusive Bats
Regular price
Sale price
$250.00
Unit price
per
Sale
Sold out
Share
The new Limited Edition Exclusive Monsta Mad Hatter Slowpitch Softball Bat includes the hottest one piece Composite Barrel created by Monsta.  Featuring Monstas 3rd Generation FIB Technology; this model is built specifically for 52/300 and 52/275 Low Compression Softballs ONLY. It is NOT designed nor should it be used on NON-LC balls. 
This Mad Hatter Sinister has a mid-loaded one piece extremely large barrel with a 3500 handle creating a fantastic combination for all hitters alike. 

The 2022 Monsta Mad Hatter USA/ASA Slowpitch Softball Bat features the standard 2 1/4 inch barrel diameter, 12.5-inch barrel length, and a Mid Loaded Swing Weighting.  This model is designed for all slowpitch softball players who play in USA/ASA Slowpitch Softball Leagues and Tournaments utilizing low compression Slowpitch Softballs.  
Product Features:

3rd Generation FIB Technology

Available in 25 oz Weighting ONLY
2 1/4 inch Barrel Diameter
12.5 inch Barrel Length
One Piece Mid-Loaded Design
3500 Handle 
M5 Cold Weather Composite Non-Linear design
Built for LC Softballs 52/300s, and 52/275s ONLY.  Do not use these with higher compression balls. 
This bat will not perform well with anything outside of Low Compression Balls and will cause damage to the product.

View full details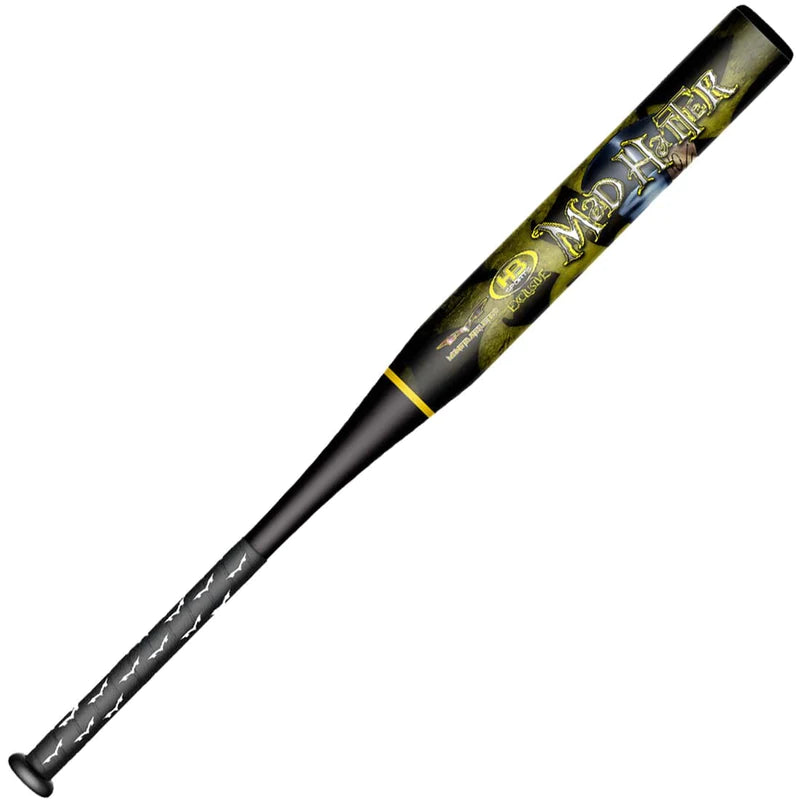 Here at ExclusiveBats we use motorized bat rollers to ensure that your bat is consistently spinning as we progressively apply pressure to the bat, that will guarantee your bat does not get any flat spots that you normally get when you use manual rollers. Here at ExclusiveBats we DO NOT believe in heat rolling composite bats as they are Fiber Reinforced Plastics and we all know whathappens to plastic in heat. Heat rolling aluminum & composite bats is SCAM also known as upselling.