Exclusive Bats
Regular price
$230.00 USD
Regular price
Sale price
$230.00 USD
Unit price
per
Sale
Sold out
Share
Mike Dill gives his seal of approval on this new Signature 2022 Mike Dill Ultra Fusion balanced SSUSA senior bat. The E-Flex 360 barrel technology combined with premium grade, C-4 carbon fiber offers maximum flex, performance & durability across all 360° of the barrel. In addition, the F4P handle improves energy transfer from handle to barrel to maximize barrel flex. This Ultra Fusion bat is equipped with a long 14-inch barrel & balanced endload feel. As a result, you'll have lightning fast swing speeds & more forgiveness across the huge hitting surface. To cap it off the eye-catching light blue design will catch everyone's attention when you walk up to the plate. Buy your Mike Dill Ultra Fusion senior bat today!

Shop the Miken Ultra Fusion Mike Dill Signature SSUSA Senior Slowpitch Bat (MF22BS) with it's 14" barrel length, 2 1/4 inch barrel diameter, and balanced swing weighting. 
Product Features: 
Mike Dill Signature Model

14 inch Barrel Length

2 1/4 inch Barrel Diameter

Balanced Swing Weighting 

Colorway: Blue / Black / Gold Lettering and Logos

C4 Carbon Fiber - Allows For The Most Efficient Angling Of Composite Fibers On The Barrel Of The Bat. The Result Is Unmatched Performance & Consistency On Softballs Coming Off The Barrel.
E-Flex 360 Barrel - This Barrel Design Works With The C4 Carbon Fiber To Ensure Flex, Performance And Durability On All 360 Degrees Of The Barrel Face!
F4P Energy Transfer - Improves Energy Transfer From The Handle To The Barrel To Result In Top Performance & Barrel Flex.
A1 Knob - Smaller Knob Shape Increases Comfort & Allows A Batters' Bottom Finger[s] To Lay Over Or Under The Knob For Increased Leverage When Swinging The Bat.
No Warranty on Miken Senior Slowpitch Bats due to high performance standards.

Legal for play in all SSUSA and ISA Sanctioned Leagues and Tournaments. 
Fast Free Shipping
View full details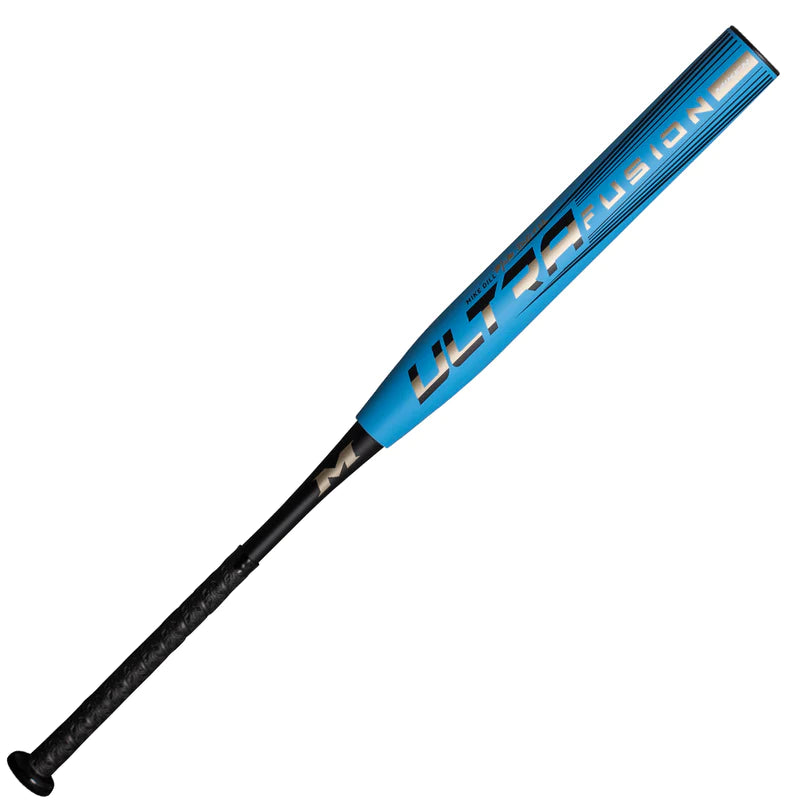 Here at ExclusiveBats we use motorized bat rollers to ensure that your bat is consistently spinning as we progressively apply pressure to the bat, that will guarantee your bat does not get any flat spots that you normally get when you use manual rollers. Here at ExclusiveBats we DO NOT believe in heat rolling composite bats as they are Fiber Reinforced Plastics and we all know whathappens to plastic in heat. Heat rolling aluminum & composite bats is SCAM also known as upselling.